First release of the early goth-elektro works from Deine Lakaien from 1987, known as "silver tape", which had, appart from three songs, never been released before (incl. 8 unknown songs!!). Re-mastererd from the original tapes.
The band dediced to release this album as a limited editon.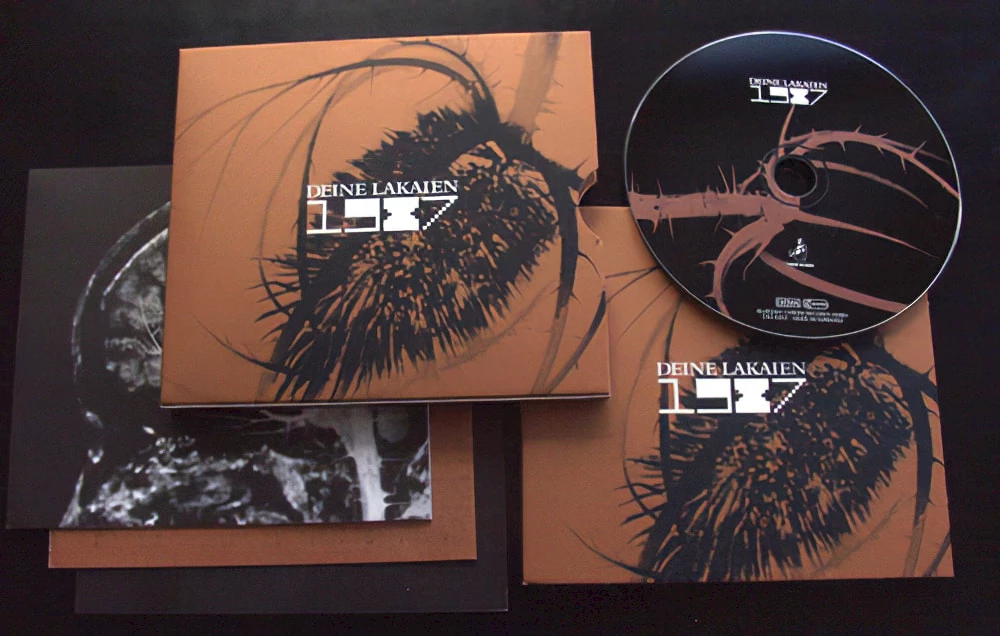 Tim Becker, an artist from Hamburg, was commissioned with the entire design in order to express the free artistic style of the album.
"1987" is packaged in a lavish design: cover-in-cover, CD digipack, 3 art booklets (12 pages each) in black/white/copper.
The unique and beautifully designed album will not be re-released. This is supposed to emphasize its special character as a present to the fans.
graveconcernsezine.com, USA
This is vintage material re-mastered & is most certainly a must for all D.L. fans. Included are the original versions of classics like "Day's Gone By", "Reincarnation", & "Love Me to the End" among other unorthodox triumphs such as "Death-Raft", "Mama, There's a Ghost", "Queue up for Redemption", "The Executioner", & "On the Way to Armada". Like a conquering sad king, Alexander Veljanov´s vocals are as brooding & overthrowing as ever, & the classically trained composer, Ernst Horn provides the timeless music & production that is so familiar in their strong musical body of work. They're an excellent example of mixing in classical music w/ Darkwave aesthetics where nothing is out of bounds for these elusive luminaries; Experimental, artistic, poetic, romantic, unnerving, & totally unique. By far, one of the greatest Goth bands ever but to pigeonhole them as such would be a crime because there's no one out there who sounds quite the same.
NOTES Musikmagazin (translation from German)
Wicked in parts, full of drama and expressionistic jitter this tape is far from the dark-pop that dominates today´s style of Deine Lakaien. Even though they keep a small niche for experiments and exhalations: "1987-The Lost Early Works" takes the cake. Those, who are only acquainted with the more recent works, will be surprised by the theatrics of this art project that perhaps asks too much from one or the other. "1987-The Lost Early Works" does not serve a simple dish but a lot of treats carrying the rough charm of the early days with them.
ORKUS Musikmagazin (translation from German)
Known as "silver tape" the old chrome tape has been released 16 years late as silver disc and I am only left saying "Wow!". Besides "Reincarnation", "Love Me To The End", and "Days gone by" that remain the absolute favorites and hits of the band, mainly the experimental compositions present a so far unknown, almost nasty and grungy edge of Deine Lakaien. "Death raft" for example is strongly influenced be the new wave of the 80ies and now at last it will be given the honors on the dance floor that this title deserved since long ago. "On The Way To Narmada" is one of my all-time favorites of Deine Lakaien. Typical Horn-sounds, the deep voice of Veljanov and a song structure striving irresistibly toward the climax make this song a masterpiece. But also tracks like "Queue Up For Redemption", "Mama, There`s A Ghost" and "Flowers Of Love" possess their own almost irresistible charm. The "silver tape" is a must for Lakaien-fans, since one can discover a new perspective on one's favorites. Simply swell since 1987!